The much anticipated opening of a new quirky family concept store on Beckenham High Street took place this weekend. News in Beckenham went along to take a look.
Ollie and Dollie, which opened on Friday, 13 October and is the brainchild of former interior designer Manda Warner, sells a variety of locally made products, including wooden toys, aromatherapy oils, candles, baby outfits and a range of handcrafted items from small independent companies.
The naming of the store came about after Manda was inspired by a picture her granddaughter drew – a picture which now sits framed inside the store and also acts as the Ollie and Dollie logo.
Manda told News in Beckenham: "The naming came from my three year old granddaughter, Dolcie, who drew this wonderful picture. I've always wanted to do something along these lines because I just love sourcing unusual things for her as presents."
Manda had originally looked at opening a store in Crystal Palace but after being offered the Beckenham premises by the landlord she decided to take a leap of faith.
She said: "I could see there was a lot of change going on in Beckenham and so I thought if I was going to do something like this I needed to do it now. With my background in interior design I knew what I wanted and how to put it all together."
"The opening went brilliantly. I've been overwhelmed with people's responses and many have come up to me and said they love what I have to offer which is amazing to hear."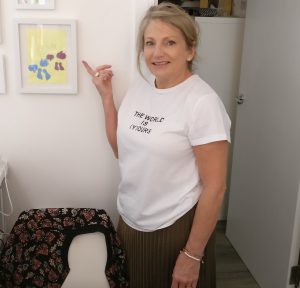 Manda Warner was inspired by this picture drawn by her three year old granddaughter, Dolcie.